The Players

Happy Summer!  In this issue of the Big Purr newsletter, let's meet the amazing session musicians who lent their incredible talents and creativity to the songs on Restless.  Gotta give my props for their chops!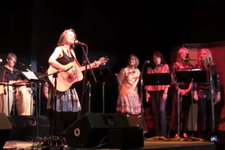 Although the majority of the session players on the new album are guys, let's not forget the lone female in the side lineup—the lovely and gifted Chris Woods.  Part of the Irish-Americana trio The Sherman Woods Band, Chris' background vocals can be heard in The Hardest March, which we featured earlier this year.

Kyle Zender (lead guitar & bass) and Hill Baker (percussion) comprise the phenomenal band Paer— a tasty main dish of Instrumental/Electronic/Rock with a side of Funk.  Lucky for me, these two gents play on every track in Restless, so take your pick!  Their jams are particularly en fuego on Rattlesnake.

Chris Speasmaker (aka Speas on Keys) is the extraordinary keyboard player for The Congress.  Brilliantly augmented by bringing his very cool (and very heavy) vintage Leslie Amp to the sessions, Chris' soulful organ work weaves a haunting, lingering groove in Keep on Driving.
Phil Norman, Cellist
. When I wrote the song
Avidya
, I always had a cello in mind to create a dialog between the inner voice described in the lyrics and the vocal.  Who better to portray that moody and melodious sound than the very gifted
Phil Norman
.  His sometimes brooding, sometimes chattering cello portrays the insistent Avidya perfectly.
Thom Flora, Background Vocalist. I was introduced to Thom's gilded pipes while recording my first album Plenty in Nashville.  He is the real deal.  His BGV's can be heard alongside the top recording artists in Nashville.  His intuitive vocal creativity is unmatched.  For example, take a listen to Devil Dog, and you'll see what I mean.
John Macy plays Pedal Steel

like a house on fire.  Recording credits include the Nitty Gritty Dirt Band, Los Lobos, Big Head Todd, and many other spectacular bands.  He is the proud owner of

Macy Sound Studios

and plays pedal steel for Casey James Prestwood and the Burning Angels and The Railbenders.  Get yer classic twang on with John and listen to

Everywhere & Nowhere

.



In other news from Radio Land… special thanks to Bruce Swan of WRFR-FM, Rockland, Maine for the interview on "Late Night Groove".  Part 1 & Part 2 feature a chat with me and selected cuts from both Plenty and Restless.  It's a double shot of The Susie Show!
You can buy the full album
Restless
on iTunes, Amazon, or directly from my website.
LISTEN, LOVE, BUY, SHARE.